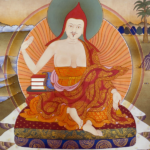 Madhyamakavatara: 8-Week Program
Introduction
Summary: An 8-week introduction to the Buddhist philosophy of the Middle Way and the view of emptiness/nonduality, based on Chandrakirti's Madhyamakavatara.
[Level 2: Intermediate]
Details: The online seminar series introduces the Madhyamaka or "Middle Way" teachings, the foundational view of emptiness/nonduality upon which all Buddhist practice is based. The seminars will be based on Dzongsar Khyentse Rinpoche's teachings on Chandrakirti's Madhyamakavatara, the Heart Sutra, and the Vajracchedika Sutra, as well as other related teachings by Rinpoche such as the Two Truths and the Four Seals.
Outline of the 8-Week Program
The program outline and information about each week and pre-reading may be found here.
Audio / Video recordings: are available here.
Transcripts: of the teachings are available here, in the following languages:
🇬🇧 English / 🇮🇩 Bahasa Indonesia / 🇩🇪 Deutsch / 🇲🇽 🇪🇸 Español / 🇫🇷 Français / 🇧🇷 🇵🇹 Português 🇷🇺 Русский / 🇭🇰 🇹🇼 繁體字 / 🇨🇳 简体字
(Please note: translations are in progress. Not all teachings are yet available in all languages)
Program text: "Introduction to the Middle Way"
If you would like to download a free copy of Dzongsar Khyentse Rinpoche's commentary on the Madhyamakavatara, the reference text for the program, you can do so here.
Help
If you have questions, please first check the FAQ as the answers may already be there.
If this does not answer your questions, please see the Help page.
---
Page last edited 7 September 2017