Madhyamakavatara: 8-Week Program Week 7 Pre-Reading
Summary
Date: 19 July
Topic: Applying the view: Meditation
Text: Madhyamakavatara (Introduction to the Middle Way) 7:1-11:56 (Chapters 7 to 11), pages 341 to 412 in the PDF version. (To download a copy, the instructions are here)
Questions: How can we understand enlightenment as nondual? How should we apply the view in our meditation / practice?
Keywords: enlightenment, qualities, meditation, mindfulness, practice
---
Also available: audio/video recordings and transcript/translations for Week 7.
---
Pre-Reading (Recommended)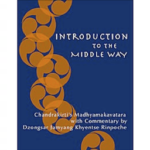 Dzongsar Khyentse Rinpoche (2004) Introduction to the Middle Way
In Week 7 we will cover the 7th to 10th bhumis and Chapter 11 on the qualities of enlightenment. In the Madhyamakavatara (Introduction to the Middle Way) this corresponds to Chapters 7 to 11, pages 341 to 412 in the PDF version.
Pre-Reading (Optional)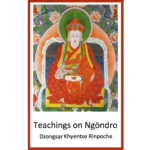 Dzongsar Khyentse Rinpoche, trans. Khenpo Sonam Phuntsho (2015) Teachings on Ngöndro, Bartsham, Bhutan
Introductory-level teachings covering the complete ngöndro path, starting with generating proper motivation and taking Refuge, then going through shamatha, Bodhicitta, Vajrasattva and mandala offering, and concluding with an introduction to Guru Yoga.
These notes are based on teachings on ngöndro given by Dzongsar Khyentse Rinpoche during the Pema Lingpa Tersar empowerments and transmissions given in Bartsham, Bhutan from 22 December 2013 to 9 January 2014. Compiled and translated into English by Khenpo Sonam Phuntsho.
(To download a copy of the free PDF, the instructions are here)
Dzongsar Khyentse Rinpoche (2012) Not For Happiness
[From press release]: Do you practise meditation because you want to feel good? Or to help you relax and be "happy"? Then frankly, according to Dzongsar Jamyang Khyentse, you are far better off having a full-body massage than trying to practise the Dharma. Genuine spiritual practice, not least the Ngöndro preliminaries, will not bring the kind of comfort and ease most worldly people crave. Quite the opposite, in fact. But if your ultimate goal is enlightenment, Ngöndro practice is a must, and Not for Happiness your perfect guide, as it contains everything an aspiring practitioner needs to get started.
---
Last updated 7 November 2017