Aspiration
Calling The Lama From Afar
H. H. Dudjom Rinpoche
In the Vajrayana practice of guru devotion, we repeatedly call to the guru as if "from afar" because we do not see that the guru is always with us. As we supplicate the guru for blessings, our intellectual understanding of the Dharma develops into the confidence and realization that ultimately the guru is none other than the fundamental nature of our mind. H.H. Dudjom Rinpoche's well-known and much loved prayer invokes the inspiration and blessing of the three-kaya guru to perfect the Dzogchen view, meditation and action.
The Aspiration Prayer of Samantabhadra (Kunzang Mönlam)
Rigdzin Gödem
This aspiration prayer (also known as The Prayer of Kuntuzangpo) is among the most popular texts of the Dzogchen tradition. Its recitation is especially recommended during solar and lunar eclipses, at the solstices and new year, as well as during earthquakes and other environmental anomalies. It is the nineteenth chapter from The Tantra that Teaches the Great Perfection as Samantabhadra's Unobstructed Awakened Mind (Gongpa Zangthal Gyi Gyü), which teaches that by aspiring in the manner of this prayer, all sentient beings cannot help but awaken.
---
Longevity and Purification
Ushnishavijaya Dharani
From Chimé Phagma Nyingtik
Ushinishavijaya is a manifestation of all the merit contained within the Buddha's topknot, which is also represented as the wisdom of non-duality. Recitation of this dharani is said to help sentient beings in a troubled and tumultuous world to obtain happiness and be free from suffering, increase prosperity and longevity, remove karmic obstacles, eliminate disasters and calamities, and quickly be led onto the path of the Buddhadharma. This dharani was the principal practice during the 10th Ushinishavijaya Drupchö led by Dzongsar Khyentse Rinpoche in Taipei, Taiwan from November 19-24, 2020.
---
Averting Disease and Obstacles
White Umbrella
Dharani and mantras from "The Swift Steed of Garuda"
Karma Chagme
Dzongsar Khyentse Rinpoche suggests that his three-year retreatants recite the dharani and the two short mantras from this sadhana of the deity Sitatapatra ("White Umbrella") to avert harmful forces and obstacles during their practice. In the words of the text itself, to practice this sadhana is "to hold aloft an indestructible vajra sword that can avert disease, obstacles, black magic, evil spells and all oppressing forces."
---
Mañjushri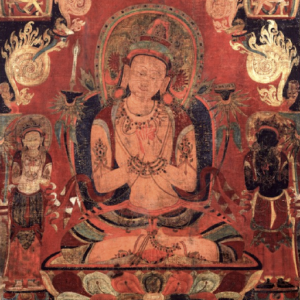 Praise to Mañjushri (Shri Jñana Gunaphala)
Acharya Vajrayudha
This is perhaps the most famous praise of Mañjushri recited by Tibetan Buddhists. According to legend it was composed by 500 Indian panditas simultaneously, in response to a request from their abbot, after whom it takes its formal name Shri Jñana Gunaphala, "Glorious Wisdom's Excellent Qualities".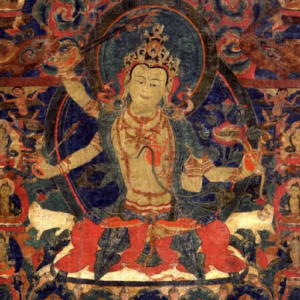 Mañjushri-Nama-Samgiti (Chanting the Names of Mañjushri)
The Mañjushri-Nama-Samgiti is a tantra of the nondual (advaya) class, along with tantras such as the Kalachakra Tantra. Buddha taught the Nama-Samgiti to his disciple Vajrapani and his wrathful retinue in order to lead them to enlightenment. Although it is only a short text of 167 verses, it summarizes all the Buddha's teachings. As the Buddha said: "It is the chief clarification of words. It is the nondual reality. Therefore, all sentient beings should definitely study and recite the Mañjushri-Nama-Samgiti."
The Nama-Samgiti is a tantric text, however Jamyang Khyentse Wangpo explains that it may also be recited by "beginners who do not practice the profound yoga … who wish to recite the tantra as a praise to Mañjushri's formidable qualities." When he was teaching the Madhyamakavatara in France in 1996, Dzongsar Khyentse Rinpoche read this text as an auspicious offering and praise, and said: "This is praised as being the root of all the tantras. It is like a Buddhist Bhagavad Gita. As I read, you should pray to be born as Mañjushri's assistant, as his disciple, when he attains enlightenment. He is supposedly the last buddha that will be enlightened during this kalpa. It is also said that he was the first buddha of this kalpa."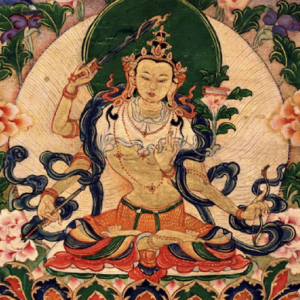 Wisdom's Bestowal
Jamyang Khyentse Wangpo

This text is subtitled "A way to accumulate the recitation of the tantra Chanting the Names of Mañjushri, Mañjushri-Nama-Samgiti." It is a 'means of recitation' that explains how to practice the root text, and it also provides additional prayers and practices to be recited before and after the root text. Jamyang Khyentse Wangpo suggests four different ways to practice the Mañjushri-Nama-Samgiti:
• For beginners "who do not practice the profound yoga": Recitation as Praise to Mañjushri;
• Recitation as Secret Mantra by uniting with Mañjushri's nature;
• Recitation as Secret Mantra by maintaining one's yidam Vajra Pride;
• Recitation abiding by selflessness.
In composing Wisdom's Bestowal, Jamyang Khyentse Wangpo relied upon and adapted the writings of the great Sakya masters Jetsün Drakpa Gyaltsen and Sakya Pandita.
---
Mahayana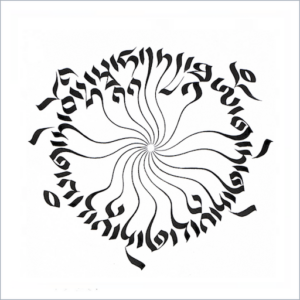 Heart Sutra (Prajñāpāramitāhṛdaya)
Described by Dzongsar Khyentse Rinpoche as "the head, heart, soul and spine of Mahayana Buddhism," the Heart Sutra is perhaps the most popular Buddhist text in East Asia. Rinpoche suggests it is auspicious to chant the Heart Sutra daily, especially while studying Madhyamaka.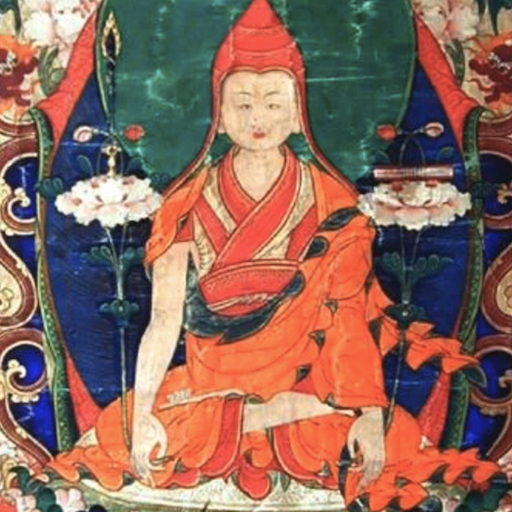 The liturgy for taking refuge and the bodhisattva vow, as given by Dzongsar Khyentse Rinpoche in 2020 on the day of Vesak, the anniversary of Gautama Buddha's birth, enlightenment and parinirvana.
---
Buddha
Praise of the Twelve Acts of the Buddha
Jigme Lingpa
In a series of poetic verses Jigme Lingpa pays homage to the Buddha Shakyamuni by recalling his most significant deeds, from his initial descent from the heaven of Tushita to his final attainment of parinirvana. It is recommended to recite this prayer especially on Saga Dawa Düchen, the anniversary of the Buddha's enlightenment and parinirvana.
---
Artwork (top to bottom): Aspiration: (1) H.H. Dudjom Rinpoche (photographer unknown); (2) Samantabhadra (artist unknown); Longevity: (1) Ushnishavijaya, China, 18th century, Private collection, Himalayan Art; (2) Gold bodhi leaf, Khyentse Foundation; Protection: (1) Sitātapatrā, Tibet, private collection, Himalayan Art; Mañjushri: (1) Mañjushri, 14th century, Sakya lineage, Tibet. Collection of Rubin Museum of Art, Himalayan Art; (2) Mañjushri-Nama-Samgiti, 19th century, Tibet, Collection of Rubin Museum of Art, Himalayan Art; (3) Mañjushri-Nama-Samgiti, 16th century, Kagyu lineage, Tibet, Collection of Rubin Museum of Art, Himalayan Art; Mahayana: (1) "Emanate from Emptiness", Tashi Mannox; (2) Longchenpa (artist unknown); (3) Head of Chinese bodhisattva (artist unknown), Wang Junyi, Unsplash; Buddha: Shakyamuni Buddha – Life Story (including the 12 deeds), Nepal, 15th century, private collection, Himalayan Art.
---