White Umbrella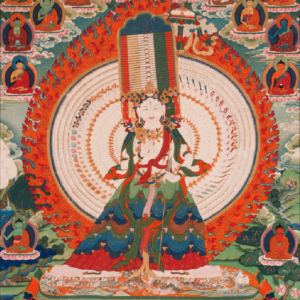 White Umbrella: Dharani and mantras from "The Swift Steed of Garuda"
Dzongsar Khyentse Rinpoche suggests that his three-year retreatants recite the dharani and the two short mantras from this sadhana of the deity Sitatapatra ("White Umbrella" or "White Parasol") to avert harmful forces and obstacles during their practice. In the words of the text itself, to practice this sadhana is "to hold aloft an indestructible vajra sword that can avert disease, obstacles, black magic, evil spells and all oppressing forces." It is also said to be a swift means of traveling to Sukhavati, like flying on the back of a garuda.
The translation of the dharani and mantras below is by Lhasey Lotsawa Translations.
---
White Umbrella: Dharani and mantras from "The Swift Steed of Garuda"
HŪM, Vajroshnisha, Great Dispeller,
Great goddess with a thousand arms,
Great goddess with a thousand heads,
Great goddess with thousands of eyes,
With blazing indestructible vajra-characteristics,
Great Exalted Vajra, ruler of the mandala of the three plains of existence –
I pray to you, protect our families, our friends, wealth and possessions,
Both day and night!
TADYATHĀ | OM ANALE ANALE | VISHADE VISHADE | VAIRE VAIRE | VAJRADHARI | BANDHA BANDHANI | VAJRAPĀNI PHAT HŪM HŪM PHAT PHAT SVĀHĀ | HŪM DRŪM BANDHA PHAT | MAMA RAKSHA RAKSHA SVĀHĀ |
As for all oppression and binding forces of body, speech and mind
Both my own and those of all who need protection,
Break them, break them! Stop them, stop them!
Drive away all oppressive, binding, chaining forces!
SARVA APANAYA SVĀHĀ!
Pacify them utterly!
SHĀNTIM-KURUYE SVĀHĀ!
Recite this at best seven times, at middling five times or at the very least three times. After that, recite the heart and quintessence mantras, as you please and are able.
The heart mantra:
OM SARVA TATHĀGATOSHNISHA HŪM PHAT | HŪM MAMA HŪM NI SVĀHĀ |
The quintessence mantra:
OM MAMA HŪM NI SVĀHĀ |
Through the merit of this meditation and recitation,
As soon as we have discarded this unclean body,
May we miraculously take birth in Sukhavati, realm of great bliss.
As soon as we are born there, having traversed the bhumis,
May we send our emanations in all directions, to benefit beings.
Then look, vivid and awake, at the mind of the meditator. Rest within the clarity in which there is nothing whatsoever to see. Even if you cannot focus on this practice on a daily basis, continuously recite the two short mantras throughout all your daily activities.
---
Notes:
Translated by Lhasey Lotsawa Translations (trans. Laura Dainty, Stefan Mang; ed. Libby Hogg), 2017. Revised 2018, with thanks to Han Kop. (The text of the dharani above has been edited to remove diacritics from the Sanskrit).

This work is licensed by Lotsawa House under a Creative Commons Attribution-Non Commercial 3.0 Unported License.
---
• see also (Tibetan + Sanskrit): Sitatapatra (White Umbrella)
• external links: (complete translation of The Swift Steed of Garuda, including Tibetan and Sanskrit with diacritics): Lotsawa House; (collection of Sitatapatra thangkas): Himalayan Art
---
Page last updated: November 7, 2020